Philippine-American Defense Revival and Crisis in the Taiwan Strait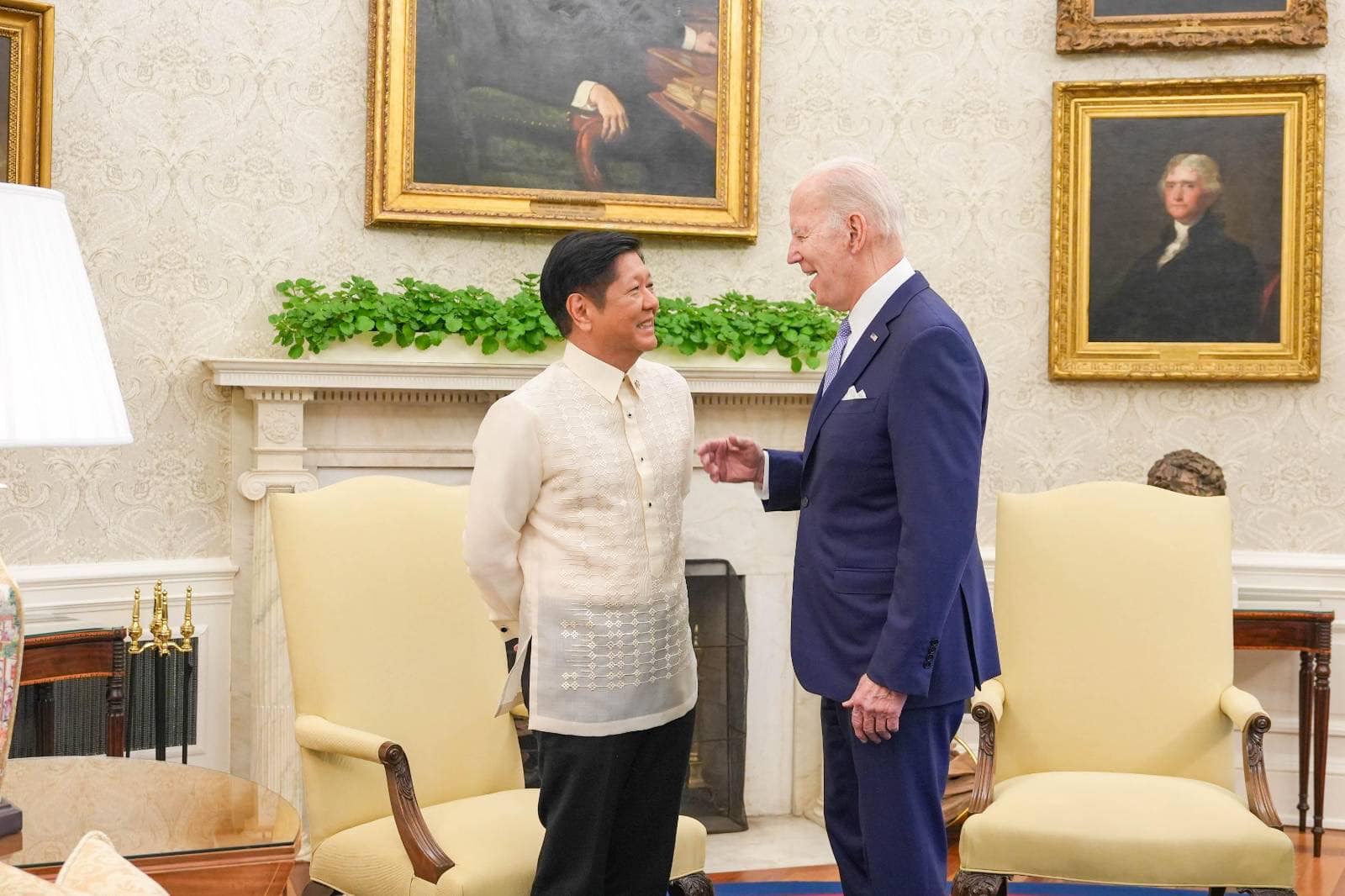 While Manila is stopping short of committing its territory to assist the defense of Taiwan in the event of a Chinese attack, President Ferdinand "Bong Bong" Marcos, Jr.'s rapid revival of Philippine-American defense cooperation has shocked Beijing.
Picture source: Bongbong Marcos, May 2, 2023, Facebook, https://www.facebook.com/photo/?fbid=789075622587020&set=pb.100044537672013.-2207520000.

Philippine-American Defense Revival and Crisis in the Taiwan Strait
Prospects & Perspectives No. 24

By Richard D. Fisher, Jr.

 While Manila is stopping short of committing its territory to assist the defense of Taiwan in the event of a Chinese attack, President Ferdinand "Bong Bong" Marcos, Jr.'s rapid revival of Philippine-American defense cooperation has shocked Beijing. A much more robust U.S. defense of its longstanding Philippine ally would severely threaten regional Chinese Communist Party (CCP) aggression.
 On April 30, 2023, on his way to Washington, D.C, Marcos stated: "We will not encourage any provocative action that will involve the Philippines by any other country…We will not allow the Philippines to be used as a staging post for any kind of military action."
 But for Beijing, the actions the Philippine and American speak louder than any words.
 By the time President Marcos reached Washington, D.C., for his May 1 White House meeting with President Joe Biden to reaffirm the 72-year old Philippine-American alliance, Marcos had presided over the most profound elevation in Philippine-U.S. defense cooperation since the 1980s, building on gradual improvements since the nadir of the 1992 U.S. exit from Clark Air Base and Subic Naval Base, but also creating the potential for a much greater strategic impact.
 That nadir included the Philippine Senate's September 16, 1991, defeat by one vote of a new treaty for U.S. military facilities. Not until the May 1999 Philippine-U.S. Visiting Forces Agreement during administration of President Joseph Estrada was there a new legal basis for visiting U.S. forces.
 During the administration of President Benigno "Noy Noy" Aquino the 2014 Enhanced Defense Cooperation Agreement (EDCA) led to U.S. military access to five Philippine facilities with regular U.S. force rotations. The administration of leftist anti-American Rodrigo Duterte was a setback; he believed he could befriend China but embarrassingly failed, then was forced to begin the Philippines' real investment in new defense capabilities.
 But in President Marcos the Biden Administration has found a realist and a nationalist who wants to defend his country. On February 2, 2023, the Marcos administration expanded EDCA, adding four more Philippine facilities, including Balabac Island of the strategic Palawan Province/Island bordering the South China Sea.
 The April 11-28, 2023, annual Philippine-U.S. "Balikatan" joint force exercise set a new record with the largest U.S. troop presence of 12,000. These distributed exercises include: the use of new Philippine Air Force South Korean FA-50PH fighters; the Philippine Navy's new South Korean built missile frigates; Indonesian-built large amphibious assault ships; new Philippine Army mobile 155mm Israeli ATMOS self-propelled artillery, and Italian A-129 attack helicopters.
 For the first time, FA-50PHs, A-129s, Philippine artillery, U.S. Army HIMARS launched 90km-range precision-guided artillery rockets, U.S. Marine F-35B 5th generation fighters, U.S. Air Force F-16s, and U.S. Army AH-64 attack helicopters, conducted a "Sinkex," or an exercise to sink a retired Philippine Navy ship, an ex-U.S. Navy World War Two era corvette.
 But perhaps most alarming to Beijing, for the first time Philippine and U.S. Marine forces, with their HIMARS missile launchers, deployed to Basco Island, a mere 160 km south of Taiwan in the middle of the Bashi Channel, where on April 5 the People's Liberation Army Navy (PLAN) aircraft carrier Shandong transited to conduct intimidation exercises against Taiwan.
 How alarmed was Beijing? To protest the upgrade in Philippine-U.S. defense relations, on April 14 the Chinese Ambassador to the Philippines, Huang Xilian, made a penultimate threat for Filipinos by threating the lives of 200,000 Overseas Filipino Workers (OFWs) in Taiwan, saying: The "Philippines is advised to unequivocally oppose 'Taiwan Independence' rather than stoking the fire by offering the US access to the military bases near the Taiwan Strait if you care genuinely about the 150,000 OFWs."
 Of course, Huang has no intention of ensuring that when PLA troops invade Taiwan they will spare the lives of Filipinos, who like millions of Taiwanese will be trying to escape, creating an historic refugee crisis for the Philippines and the democratic world.
 By extension, Ambassador Huang was also threatening the 200,000 OFWs who work in Hong Kong and alarming the Philippines' 1.8-plus million OFWs, about 7 percent of the Philippine population, not to mention tens of millions more family and friends.
 But Filipinos have been living under increasing Chinese psychological violence and real threats of military aggression since the late 1994 Chinese occupation of Mischief Reef, about 250km west of Palawan.
 In fact, it turns out that China played a role in helping the Philippine Senate to get rid of U.S. military forces and create the resulting vacuum of power it then exploited.
 Veteran Australian columnist Greg Sheridan, writing for the Australian on Dec. 10, 2021, cited a "former senior Philippine official," saying, "He told me the Beijing government had used Philippines organised crime, specifically ethnic Chinese crime networks, to mobilise vast amounts of money to make sure the Senate vote went against the bases."
 This was probably the first public acknowledgement that the CCP used bribery to defeat the new bases treaty and undermine both a key U.S. alliance relationship, and the strength of Philippine democracy.
 U.S. officials were aware that Beijing was likely paying Philippine senators to vote against a new treaty that would extend the U.S military presence, but apparently did not counter China, which has been "investing" in the Philippine political elite ever since
 Sheridan contacted the former chief U.S. negotiator for the Philippine bases treaty, Ambassador Richard Armitage, who told him: "It's generally true. China threw a lot of money at the problem. They did not sway the (Philippines) government but had more success with the (Philippines) Senate."
 By the late 2000s China was nearing completion of major air and naval bases on Mischief Reef, Subi Reef, and Fiery Cross Reef, that all told could support multiple brigades of amphibious troops, sufficient to invade and occupy Palawan, to complete Chinese control of the Northern South China Sea.
 For over 20 years Filipinos have also endured near daily press stories of Chinese harassment of the Philippines's islands in the South China Sea and of their fishing ships, all to enable China to secure Hainan Island as a base for nuclear ballistic missile submarines to attack the United States, air forces to attack Taiwan, and space forces that will soon occupy the Moon and seek to control the Earth-Moon System.
 But how long before Filipinos and their leaders understand that after China crushes the democracy on Taiwan, they will then turn their military forces to take the Ryukyu Island Chain from Japan and then crush the Philippine democracy?
 When will they accept that the best way to prevent CCP aggression against the Philippines is to help prevent a CCP war against Taiwan? When they do, they will also see that their archipelago, which almost contained Japan's World War Two empire, can still be decisive in containing the CCP's ambition for regional and global empire.
 From Basco Island in the Bashi Channel, U.S. Marines armed with the 250km range Naval Strike Missile can dominate the southern approaches to Taiwan, and in a few years, both U.S. Marine and U.S. Army guided anti-ship versions of the 800km range Precision Strike Missile (PrSM) could sink PLAN ships in the Taiwan Strait from Hong Kong to Wenzhou.
 From Balabac Island, PrSM missiles could attack the three new and illegal Chinese air-naval bases on Mischief Reef, Subi Reef and Fiery Cross Reef, and the Philippines. Soon to be delivered 500km range Russian-Indian Brahmos missiles could easily reach Mischief Reef from Palawan.
 PLA planners are likely painfully aware that from bases in the northern Philippine island of Luzon, U.S. Air Force F-35A, F-15E and F-16 strike fighters could deliver anti-ship and precision guided weapons all over PLA forces attacking Taiwan, while U.S. Air Force tankers could support joint U.S. Air Force, U.S. Navy fighter, Taiwan Air Force and Japanese Air Force operations all over the Taiwan theater of operations.
 But just as important, even though President Marcos would rule this out today, the CPP has to consider that even should it invade and conquer Taiwan, there is the possibility that the United States, along with forces from the Philippines, Australia, Japan, South Korea, and even Europe could mass forces in Northern Luzon for a counter-invasion to liberate Taiwan from CCP tyranny.
 The challenge for Washington and Taipei is to fully seize the opportunity offered by President Marcos to contain the CCP's malevolent global ambitions by increasing his own confidence in Philippine defense capabilities and of the full cooperation of their American, Japanese and Australian allies.
 If China ever did conquer Taiwan the Philippines would require hundreds of combat aircraft, hundreds of ballistic missiles and scores of combat ships and submarines to deter another Chinese invasion.
 As such, Washington should now be giving the Philippines hundreds of anti-ship and ballistic missiles and offering scores of used F-16 or F/A-18 fighters. In addition, Taiwan's preparations for a PLA invasion should include along with providing far greater resilience for Taiwanese, also making clear how Overseas Filipino Workers can find safety and evacuation assistance.
(Richard D. Fisher, Jr. is a senior fellow with the International Assessment and Strategy Center.)
編按:本文僅代表作者個人觀點,不代表遠景基金會之政策及立場。